Raven Competition 2013 › Results › Day 3 › 13.04.2013
Training Day Day 1 Day 2 Day 3 Day 4 Day 5 Day 6 Day 7 Day 8 Overall Results
Racing Task | Final Results | Maximum Points: 632 | Day Factor = 1.0000
| | | | | | | | | | | |
| --- | --- | --- | --- | --- | --- | --- | --- | --- | --- | --- |
| # | | PILOT | CN | RN | PLANE | DISTANCE | TIME | SPEED | PEN | SCORE |
| 1 | | Helmut Kuenne | F9 | D-2318 | Discus2 | 295.24 km | 02:04:50 | 141.9 km/h | 0 | 632 |
| 2 | | Tomas Brotanek | TB | OK-0516 | Discus2 | 295.24 km | 02:06:21 | 140.2 km/h | 0 | 621 |
| 3 | | Harald Weber | 09X | D-4109 | Discus2 | 295.24 km | 02:06:26 | 140.1 km/h | 0 | 620 |
| 4 | | Radek Mica | RUM | OK-5417 | LS8 | 295.24 km | 02:07:10 | 139.3 km/h | 0 | 615 |
| 5 | | Sam Hotte | HOT | HOTTE | Discus2 | 295.24 km | 02:07:00 | 139.5 km/h | 13 | 603 |
| 6 | | Bivoj von Mahren | XX1 | OK-ALF | Discus2 | 295.24 km | 02:08:57 | 137.4 km/h | 0 | 602 |
| 7 | | Horst Jahnke | DHJ | D-2056 | LS8 | 295.24 km | 02:10:58 | 135.2 km/h | 0 | 588 |
| 8 | | Sasa Mihajlovic | SM1 | 9A-GSM1 | LS8 | 295.24 km | 02:13:27 | 132.7 km/h | 2 | 569 |
| 9 | | Aleksey Chernov | AV7 | AIRMAN | Discus2 | 295.24 km | 02:13:46 | 132.4 km/h | 0 | 569 |
| 10 | | Jon Holland | 123 | G-RUSH | LS8 | 295.24 km | 02:16:58 | 129.3 km/h | 0 | 548 |
| 11 | | Jiri Adam | ADX | OK-0024 | Discus2 | 295.24 km | 02:17:29 | 128.8 km/h | 0 | 545 |
| 12 | | Pete Allen | PWA | G-1466 | LS8 | 295.24 km | 02:17:36 | 128.7 km/h | 0 | 544 |
| 13 | | Paca84 Laurent | LM1 | PACA84 | LS8 | 295.24 km | 02:18:12 | 128.2 km/h | 0 | 540 |
| 14 | | Kestutis Jurkstas | F | LY-GMF | LS8 | 295.24 km | 02:19:07 | 127.3 km/h | 0 | 535 |
| 15 | | Jens Moeller | DK2 | XL136 | LS8 | 295.24 km | 02:20:41 | 125.9 km/h | 0 | 525 |
| 16 | | Valentin Tornavi | 574 | RA-SLY | Discus2 | 295.24 km | 02:20:58 | 125.7 km/h | 1 | 523 |
| 17 | | Lubos Faitz | LFM | OK-4812 | Discus2 | 295.24 km | 02:21:09 | 125.5 km/h | 0 | 522 |
| 18 | | Kresimir Hrastovec | KH | 9A-007 | ASW28 | 295.24 km | 02:21:16 | 125.4 km/h | 0 | 522 |
| 19 | | Erwin deBruin | EDB | PH-1999 | LS8 | 295.24 km | 02:22:14 | 124.5 km/h | 0 | 516 |
| 20 | | Carsten Tietz | SDI | D-KPEZ | LS8 | 295.24 km | 02:23:26 | 123.5 km/h | 0 | 509 |
| 21 | | Miroslav Ladnak | MIL | OM-ORLE | Discus2 | 295.24 km | 02:23:59 | 123 km/h | 0 | 506 |
| 22 | | Rostislav Broz | YA | OK-6301 | Discus2 | 295.24 km | 02:24:21 | 122.7 km/h | 0 | 504 |
| 23 | | Jiri Nemecek | D32 | OK-6432 | Discus2 | 295.24 km | 02:25:53 | 121.4 km/h | 0 | 495 |
| 24 | | Szymon Chomicki | SHI | SP-ARCH | Discus2 | 295.24 km | 02:27:31 | 120.1 km/h | 0 | 486 |
| 25 | | Jozef Dubaj | 1D | OM-8732 | Discus2 | 295.24 km | 02:28:35 | 119.2 km/h | 0 | 480 |
| 26 | | Laszlo Orsy | EJE | HU-EJE | Discus2 | 295.24 km | 02:28:37 | 119.2 km/h | 0 | 480 |
| 27 | | Milos Koch | MK | OK-1823 | ASW28 | 295.24 km | 02:31:36 | 116.8 km/h | 0 | 465 |
| 28 | | Heinz Bentheim | HB8 | D-2401 | LS8 | 295.24 km | 02:32:23 | 116.2 km/h | 0 | 461 |
| 29 | | Tom Bouctou | BIR | D-9876 | Discus2 | 295.24 km | 02:30:46 | 117.5 km/h | 15 | 454 |
| 30 | | Wlodzimierz Kowalski | DB9 | SP-2964 | ASW28 | 295.24 km | 02:32:12 | 116.4 km/h | 16 | 446 |
| 31 | | Anton Lovi | AL9 | OE-2133 | LS8 | 295.24 km | 02:36:32 | 113.2 km/h | 0 | 440 |
| 32 | | Horst Ziegler | HD | D-2803 | Discus2 | 295.24 km | 02:37:07 | 112.7 km/h | 0 | 437 |
| 33 | | Red Martin | RAM | EU-IRAM | LS8 | 295.25 km | 02:38:41 | 111.6 km/h | 7 | 423 |
| 34 | | Rudolf Kalousek | R1K | OK-7777 | LS8 | 295.24 km | 02:42:38 | 108.9 km/h | 0 | 412 |
| 35 | | Egon Jorgensen | X5 | OY-XKP | ASW28 | 295.24 km | 03:01:04 | 97.8 km/h | 6 | 332 |
| 36 | | Josef Patocka | S3 | OK-3301 | LS8 | 295.24 km | 03:03:32 | 96.5 km/h | 0 | 329 |
| 37 | | Laszlo Flora-Nagy | FNL | H-FLORA | ASW28 | 157.67 km | | | 0 | 169 |
| 38 | | Ukasz Prokop | XC2 | PL-HIGH | ASW28 | 261 km | | | 0 | 0 |
| 39 | | Petr Vosvos | 117 | 7117 | LS8 | 203.5 km | | | 1 | 0 |
| 40 | | Koehler Bernd | 222 | D-2222 | LS8 | 193.4 km | | | 0 | 0 |
| 41 | | Josef Spirik | S50 | SPIRA | Discus2 | 205.75 km | | | 0 | 0 |
| 42 | | Erik Praznovsky | EP | OM-1974 | Discus2 | 198.9 km | | | 0 | 0 |
| 43 | | Marek Marcuss | 030 | SP-0303 | Discus2 | 198 km | | | 0 | 0 |
| 44 | | Zbyszek Tkocz | ZBY | ZBYCH | Discus2 | 173.36 km | | | 0 | 0 |
| 45 | | Tomas Smolik | LOL | OK-9707 | LS8 | 159.4 km | | | 1 | 0 |
| 46 | | Maksim Lazarev | ZAK | ZAK | Discus2 | 145.39 km | | | 0 | 0 |
| 47 | | Petr Lukasek | LU | OK-1818 | LS8 | 136.6 km | | | 0 | 0 |
| 48 | | Leszek Tomasik | LTO | SP-2188 | Discus2 | 0 km | | | 0 | 0 |

Download IGC files (all pilots in one ZIP file) | Detailed results (mCR, mIAS, Detour%...)
Briefing › Day 3 › 13.04.2013 › 20:00 CEST › Saturday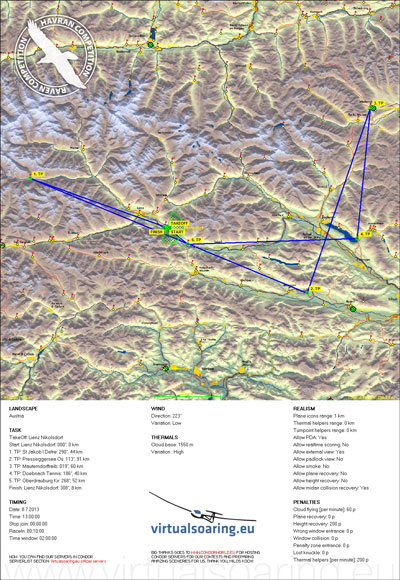 Server:Raven Competition 2013
Password:CONDORWORLD
Date:13.04.2013
Time:20:00 CEST (18:00 UTC)
Join time:30 min.
---
Landscape:Austria 1.0
Plane class:Standard Class
Task type:Racing Task
Race-in time:10 min.
Time window:120 min.
Start time:13:00:00
Condor date:08.07.2013
Start altitude:max. 2000 m QNH
---
TakeOff:Lienz Nikolsdorf
Start:Lienz Nikolsdorf
1. TP:St Jakob I Defre
2. TP:Presseggersee Os
3. TP:Mauterndorffreib
4. TP:Doebriach Tennis
5. TP:Oberdrauburg Kir
Finish:Lienz Nikolsdorf
Distance:295 km
---
Cloudflying not allowed! Circeling in the direction of climb is determined by the first glider in thermal. If you have doubts about the circeling direction, ask in the chat. Please fly safe, good luck to all pilots.
---

Download Flightplan (FPL file)
---
comments powered by

Disqus