Raven Competition 2013 › Results › Day 7 › 11.05.2013
Training Day Day 1 Day 2 Day 3 Day 4 Day 5 Day 6 Day 7 Day 8 Overall Results
Racing Task | Final Results | Maximum Points: 471 | Day Factor = 1.0000
| | | | | | | | | | | |
| --- | --- | --- | --- | --- | --- | --- | --- | --- | --- | --- |
| # | | PILOT | CN | RN | PLANE | DISTANCE | TIME | SPEED | PEN | SCORE |
| 1 | | Erik Praznovsky | EP | OM-1974 | Discus2 | 300.19 km | 01:40:41 | 178.9 km/h | 0 | 471 |
| 2 | | Bivoj von Mahren | XX1 | OK-ALF | Discus2 | 300.19 km | 01:45:01 | 171.5 km/h | 0 | 438 |
| 3 | | Aleksey Chernov | AV7 | AIRMAN | Discus2 | 300.19 km | 01:47:30 | 167.5 km/h | 0 | 419 |
| 4 | | Szymon Chomicki | SHI | SP-ARCH | Discus2 | 300.19 km | 01:47:55 | 166.9 km/h | 3 | 414 |
| 5 | | Harald Weber | 09X | D-4109 | Discus2 | 300.19 km | 01:48:19 | 166.3 km/h | 0 | 414 |
| 6 | | Sasa Mihajlovic | SM1 | 9A-GSM1 | LS8 | 300.19 km | 01:49:46 | 164.1 km/h | 0 | 404 |
| 7 | | Antonin Fischer | AFI | OK-1103 | Discus2 | 300.19 km | 01:49:48 | 164 km/h | 2 | 402 |
| 8 | | Jiri Adam | ADX | OK-0024 | Discus2 | 300.19 km | 01:50:12 | 163.4 km/h | 0 | 401 |
| 9 | | Erwin deBruin | EDB | PH-1999 | LS8 | 300.19 km | 01:50:17 | 163.3 km/h | 0 | 400 |
| 10 | | Jon Holland | 123 | G-RUSH | LS8 | 300.19 km | 01:50:34 | 162.9 km/h | 0 | 398 |
| 11 | | Tom Bouctou | BIR | D-9876 | Discus2 | 300.19 km | 01:50:53 | 162.4 km/h | 0 | 396 |
| 12 | | Sam Hotte | HOT | HOTTE | Discus2 | 300.19 km | 01:51:37 | 161.4 km/h | 0 | 391 |
| 13 | | Horst Jahnke | DHJ | D-2056 | LS8 | 300.19 km | 01:51:50 | 161.1 km/h | 0 | 390 |
| 14 | | Helmut Kuenne | F9 | D-2318 | Discus2 | 300.19 km | 01:52:24 | 160.2 km/h | 0 | 386 |
| 15 | | Tomas Brotanek | TB | OK-0516 | Discus2 | 300.19 km | 01:52:54 | 159.5 km/h | 0 | 383 |
| 16 | | Quinten Hermans | QAS | OO-ZWM | Discus2 | 300.19 km | 01:53:12 | 159.1 km/h | 2 | 379 |
| 17 | | Radek Mica | RUM | OK-5417 | LS8 | 300.19 km | 01:54:34 | 157.2 km/h | 3 | 370 |
| 18 | | Pete Allen | PWA | G-1466 | LS8 | 300.19 km | 01:55:07 | 156.4 km/h | 0 | 369 |
| 19 | | Jiri Ehrenberger | PJE | OK-6417 | LS8 | 300.19 km | 01:56:33 | 154.5 km/h | 5 | 356 |
| 20 | | Lubos Faitz | LFM | OK-4812 | Discus2 | 300.19 km | 01:57:49 | 152.9 km/h | 0 | 353 |
| 21 | | Kresimir Hrastovec | KH | 9A-007 | ASW28 | 300.19 km | 01:58:08 | 152.5 km/h | 0 | 351 |
| 22 | | Fil Sykora | FIL | OK-3316 | Discus2 | 300.19 km | 01:58:25 | 152.1 km/h | 0 | 349 |
| 23 | | Valentin Tornavi | 574 | RA-SLY | Discus2 | 300.19 km | 01:59:47 | 150.4 km/h | 0 | 342 |
| 24 | | Alain Zutter | AZZ | F-CGAZ | LS8 | 300.19 km | 01:59:52 | 150.2 km/h | 0 | 341 |
| 25 | | Ole Andersen | OMA | OY-XPF | ASW28 | 300.19 km | 01:59:37 | 150.6 km/h | 9 | 334 |
| 26 | | Milos Koch | MK | OK-1823 | ASW28 | 300.19 km | 02:02:50 | 146.6 km/h | 0 | 325 |
| 27 | | Antal Szucs | SIR | SIRALY | Discus2 | 300.19 km | 02:04:26 | 144.7 km/h | 0 | 316 |
| 28 | | Jiri Nemecek | D32 | OK-6432 | Discus2 | 300.19 km | 02:04:29 | 144.7 km/h | 0 | 316 |
| 29 | | Rudolf Kalousek | R1K | OK-7777 | LS8 | 300.19 km | 02:05:49 | 143.1 km/h | 0 | 309 |
| 30 | | Red Martin | RAM | EU-IRAM | LS8 | 300.19 km | 02:09:12 | 139.4 km/h | 0 | 292 |
| 31 | | Mathias Muench | HG | D-2197 | LS8 | 300.19 km | 02:21:18 | 127.5 km/h | 0 | 238 |
| 32 | | Luigi Zampetti | L08 | I-ZALU | Discus2 | 300.19 km | 02:31:33 | 118.8 km/h | 0 | 201 |
| 33 | | Miroslav Ladnak | MIL | OM-ORLE | Discus2 | 134.4 km | | | 0 | 0 |
| 34 | | Laszlo Orsy | EJE | HU-EJE | Discus2 | 210.36 km | | | 6 | 0 |
| 35 | | Homa Brut | OPG | HOMA | ASW28 | 101.7 km | | | 6 | 0 |
| 36 | | Laszlo Flora-Nagy | FNL | H-FLORA | Discus2 | 39.5 km | | | 0 | 0 |

Download IGC files (all pilots in one ZIP file) | Detailed results (mCR, mIAS, Detour%...)
Briefing › Day 7 › 11.05.2013 › 20:00 CEST › Saturday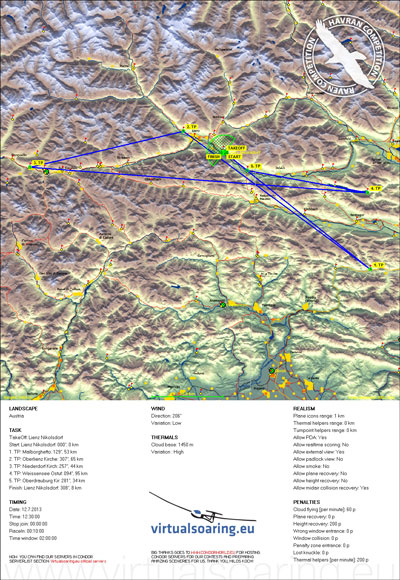 Server:Raven Competition 2013
Password:SOARING
Date:11.05.2013
Time:20:00 CEST (18:00 UTC)
Join time:30 min.
---
Landscape:Austria 1.0
Plane class:Standard Class
Task type:Racing Task
Race-in time:10 min.
Time window:120 min.
Start time:12:30:00
Condor date:12.07.2013
Start altitude:max. 2000 m QNH
---
TakeOff:Lienz Nikolsdorf
Start:Lienz Nikolsdorf
1. TP:Malborghetto
2. TP:Oberlienz Kirche
3. TP:Niederdorf Kirch
4. TP:Weissensee Ostuf
5. TP:Oberdrauburg Kir
Finish:Lienz Nikolsdorf
Distance:300 km
---
Cloudflying not allowed! Circeling in the direction of climb is determined by the first glider in thermal. If you have doubts about the circeling direction, ask in the chat. Please fly safe, good luck to all pilots.
---

Download Flightplan (FPL file)
---
comments powered by

Disqus